Damage Repaired at Rattlesnake
On 4 August 2020, the remnants of Hurricane Isaias caused damage on the Rattlesnake property. Bob and Alice Roemer reacted immediately and within 24 hours the trails and bridges were repaired. More effort by a group will be required later in order to complete the cleanup.
Damage included:
6" ash tree across the trail between the Lime Kiln and Whitcomb Quarry. It was getting dark; no photos.
12'" oak tree across the trail 50 yds. south of junction 1D toward junction 1C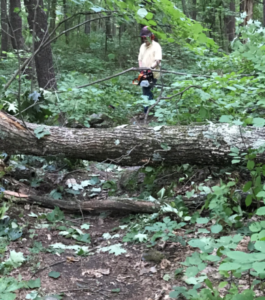 12" ash tree on top of the west bridge on Great Brook (below). Only damage to the bridge is the lifting of the planks which can be re-nailed to the beams. The beams are supported by a center column drilled into rock and weren't damaged. We'll need to get a group later in the year to cut and move several trunks that dropped into Great Brook as a result of the storm and clean-up effort.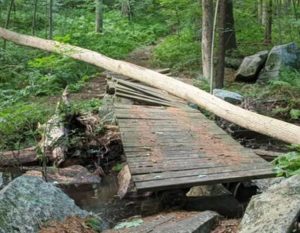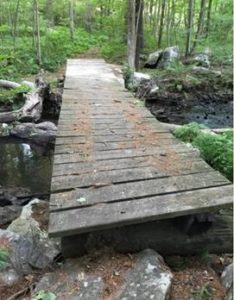 8" ash across the trail 20 yds. west of west bridge.