Maps
To report an issue on Bolton's Trails click here. Bolton Trails Committee records problems using Trailcare.com.
Summit series challenge announced. Click here

Summit Series
Find the map you need on this page
From a computer click on the area using the map.
From a mobile device use the table.
For all the trails in town click here.
If you are interested in history, here's a look at Bolton's layout in the 1800s: 1831 map, surveyed by Silas Holman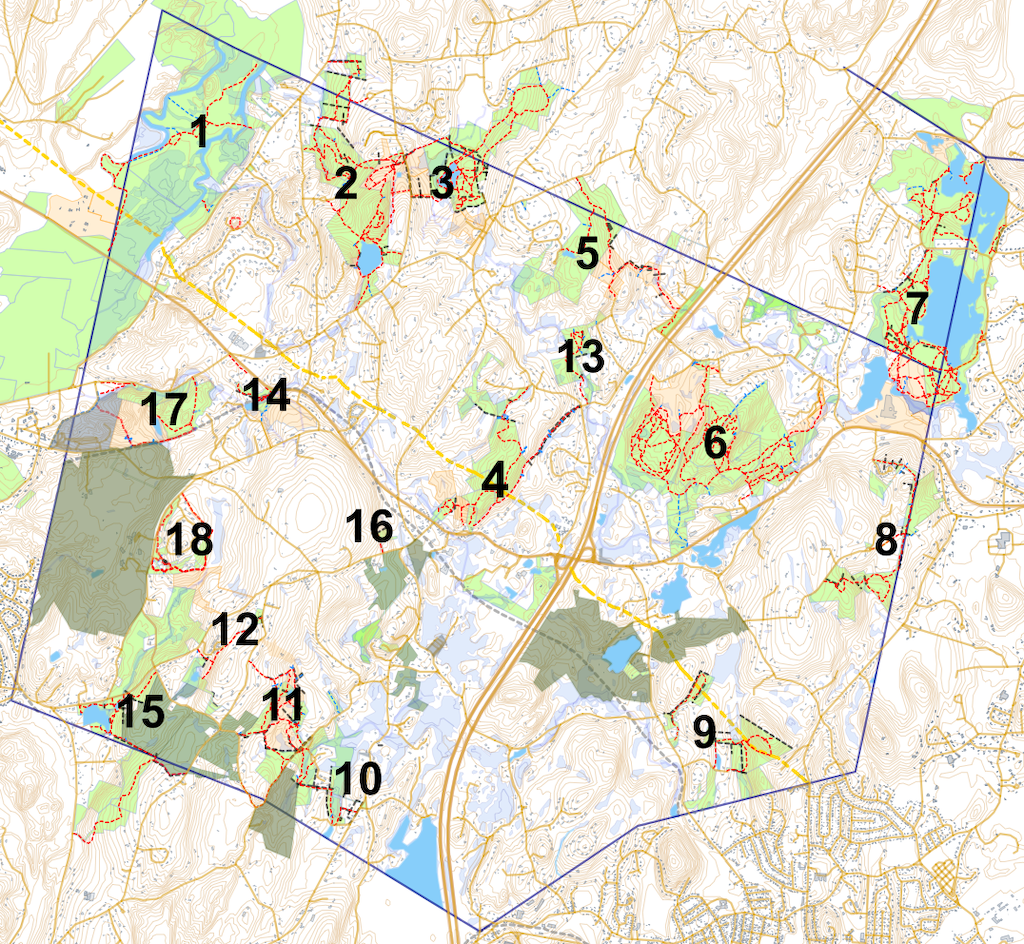 #
Area – click for map detail
Acres
Parking and Access: Latitude, Longitude (enter the numbers into your map application for directions)
1
Bolton Flats Wildlife Management Area
455

42.469058, -71.630303. Still River Rd. Car top boat launch and seasonal access to trails west of the river.

42.460556, -71.637333. 0.6 miles north of the traffic lights on Still River Rd. Appropriate for kayaks and canoes; very few trails are accessible from here car top boat launch a few yards from the parking area.

42.457500, -71.648806. 0.35 miles west of the traffic lights on Route 117, just west of the Lancaster boundary . Offers the most opportunities for walkers.

42.461389, -71.656972. 0.82 miles west of the traffic lights on Route 117 (0.5 miles west of the Lancaster boundary). Nashua River Boat Launch. Suitable for canoes and kayaks. No access to the trail system.

2
Vaughn Hills
100

42.467139, -71.625472. Vaughn Hill Road. Moen Parking area and kiosk. 4 cars.

42.453250, -71.619139. Green Road. 2 carefully parked cars at the start of the cart track. 1 car on the shoulder not impeding traffic.

42.462722, -71.622667. Woodside drive cul-de-sac. 2 cars along the shoulder not impeding traffic. Do not block the nearby driveways.

3
Bowers Springs
91*

42.462750, -71.603917. Flanagan Road. 14 cars NOT in entryway or exit area. Do not park on Flanagan Road.

4
Powder House Hill, Old Town House Road, Town Common and Evans Trails
79

42.433417, -71.605139. 2 Cars Behind the Town Hall (663 Main Street).

42.434139, -71.609722. The Town Common

42.444356, -71.591871. The Garrison House. 1 car.

42.446083, -71.598139. Quail Run Road. 2 cars parked on the shoulder near the trailhead.

5
Zink-Northwoods
104*

42.453000, -71.580278. Corn Road. 1 or 2 cars on the shoulder.

42.458694, -71.594500. Ledge Wood Circle: 2 cars on the shoulder as the road drops down to the circle. The trail head is clearly marked.

6
Rattlesnake and Vicinity
438

42.438333, -71.566250. Main St. 8-9 cars.

42.445752, -71.563310. Harris Farm Circle. 2 cars along the roadway shoulder. NOT on the private driveway.

42.448361, -71.578556. Junction of Sugar Road and Old Sugar Road. 4 cars on the shoulder.

42.446861, -71.583222. End of Old Sugar Road; space for several vehicles in the cul-de-sac. 7 cars.

7
Delaney Wildlife Management Area
580*

42.458333, -71.549861. Finn Road, Harvard (either side of the Road).

42.466139, -71.543694. Eldridge Road, Harvard (Car Top Boat launch after portage).

42.457333, -71.542944. Garner Road and Harvard Road junction, Stow (Car Top Boat launch).

42.450917, -71.543417. Harvard Rd, Stow (Car Top Boat launch).

8
Annie Moore
118*

42.428528, -71.563139. Annie Moore Road. 1-2 cars on the roadway shoulder.

42.439559, -71.556966. Bolton Woods Way Trailhead, 1-2 cars.

9
Danforth Brook and Keyes Farm
83

42.412278, -71.576111. On Danforth Lane. 2 cars. Note that parking space at the cul-de-sac is reserved for emergency vehicles.

42.414589, -71.581169. Keyes farm on gravel area located up a dirt track off Hudson Road near the Bolton Conservation sign. 2-3 cars

10
Vinger-Venable and Rocky Dundee
66

42.415111, -71.624306. Intersection of Randall Rd and Rocky Dundee Rd on a grassy shoulder. 4 cars.

42.408889, -71.618306. Quaker Park, on shoulder not blocking the road. 1 car.

42.413278, -71.626694. East side of Randall Rd. 1 car.

11
Gould-White
48

42.415111, -71.624306. Intersection of Randall Rd and Rocky Dundee Rd on a grassy shoulder. 4 cars.

42.413278, -71.626694. East side of Randall Rd. 1 car.

12
Welch Pond
11

42.423278, -71.637750. Wattaquadock Hill Road – Gould Memorial trail head. 3 cars.

13
Houghton Farm
1.0

42.447013, -71.591709. Houghton Farm Lane shoulder next to the trail head sign. 2 cars.

14
Wilder Farm
11

42.446005, -71.629698. Main Street/Route 117. 2 cars.

15
Fyfeshire and Haynes-Wheeler Conservation Areas
38

42.418278, -71.648972. Wattaquadock Hill Road at the Fyfeshire entrance gate. 6 cars parallel parked.

42.420780, -71.643226. Sawyer Rd South near Wattaquadock Hill Rd. 2 cars.

16
Bolton Overlook
4.5

42.431556, -71.615250. Wattaquadock Hill Rd, gravel parking area. 3 cars.

17
Taggart
43

42.446957, -71.638602. Forbush Mill Rd, On the edge of the roadway. 2 cars

42.446366, -71.645595. Morse Sawmill Dam, on the edge of the roadway. 2 cars.

42.446508, -71.650129. Forbush Field. Large parking area next to soccer fields.

18
Ballville Trails
30

Access is on foot from Ballville Rd.

42.436445, -71.640375 The Oak Trail Circuit trailhead near the turning into the housing development.

42.435278, -71.641389 Ballville Rd. south at a trailhead.

42.430738, -71.643489 Ballville Rd. south at the point where the trail crosses a fire access track close to the paved road.
*A portion of total acreage is outside Bolton.
The Bolton Conservation Trust, the Conservation Commission, and the Trails Committee would like to thank all those who have cleared, maintained, and cared for our trails and conservation lands, helping to keep them open and accessible to everyone.
Bolton's trails weave through our community, and offer us all a place to pursue any number of outdoor activities. Most of the town's trails are on public conservation lands, many of which have been acquired through the generous donations of Bolton citizens. Numerous trails traverse some portion of private land, however, and we are grateful to those landowners who generously share their properties through trail easements and informal trail crossings.
More information can be found on this site by searching the Get Outside drop down menu.
Click here for a selection of files for use with GPS apps on mobile devices.