Trees Cleared at Rattlesnake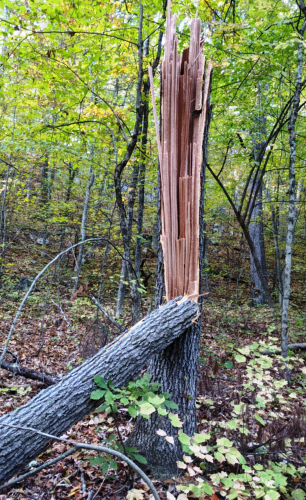 On October 7, after recent heavy winds, Bob and Alice Roemer have again been hard at work clearing the trails in what has been called "Microburst Alley" at Rattlesnake.
The storm on the afternoon of October 7 brought down a 16" red oak in the area on the Horton Trail in which we've lost a number of other trees that have succumbed to the same phenomena over the last 5 years. Bob has never seen anything like this: a healthy tree with no sign of decay. So Clearing up was planned for the morning of October 8, but lacking wind protection from the oak that had fallen previously, a second tree came down on October 8. Luckily it was on the south side & fell away from the trail. Bob and Alice dealt with that one too.